The Kundabung Public Recreation Reserve is looked after by the Kundabung Public Recreation Reserve Land Manager, which is otherwise known as the Kundabung Hall Committee.
All such Reserve Land Managers are legislatively under the auspices of Crown Lands, which is part of the NSW Department of Planning, Industry and Environment. It formally appoints members of the Committee.
Typically 4 community members are sought to serve on the committee. As the saying goes, "Many hands make light work", so if you are interested in joining the committee, please contact us.
We would love to hear from you if you are able to support the Hall in any way, whether it be suggestions, attending meetings, participating in working bees, or organising fundraising events.
The Committee meets on the first Monday of each month at 5:30pm. Link: Kundabung Hall Committee meeting
Remember, the Hall can only continue to be there for the community if the community is able to be there for the Hall.
The current (as at February 2019) Committee members are:
President: Stephen Dunstan
Secretary: Jim Moulton
Treasurer: Jan Csaszar
Contact the Committee.
As can be seen, there is currently a vacancy. A notice was placed in the Kempsey Macleay Argus on 23 August 2019 calling for applications. Applications forms are available at Franks Garage, or people can phone 1300 886 235 (then Option 5, Option 1) for forms.
There is a copy of the notice on the Crown Lands web site at link (search for Kundabung) but it is reproduced here for ease of access.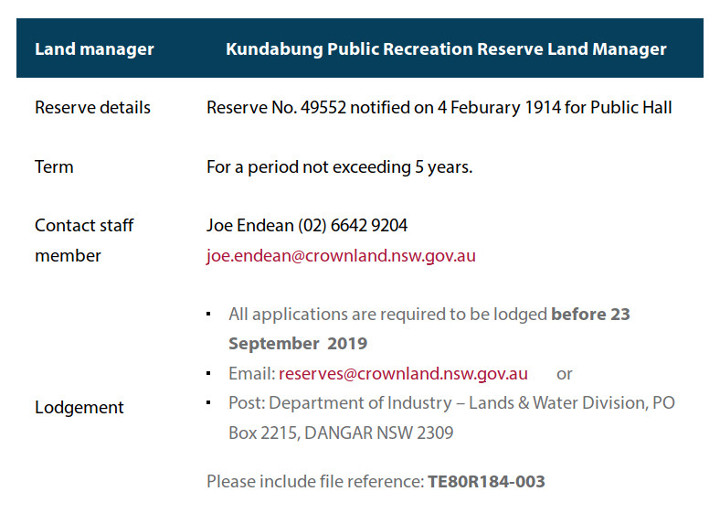 Applications close 23 September 2019.
Contact staff member for applications: Joe Endean

Lodgement of applications: Lodgement